In this ever-evolving, tech-centric world, digital marketing is a critical part of amplifying outreach and building awareness around your organization and brand. So, it should be a top priority for employers to know how to hire a digital marketing manager who is enthusiastic and strategic in how they market your company across all digital touchpoints.
Successful digital marketing managers are persuasive, metrics-minded and committed to understanding everything they possibly can about their target audiences. They're able to execute robust email campaign strategies, implement search engine optimization best practices, and establish an engaging social media presence across various platforms.
WRITING AN EXCEPTIONAL DIGITAL MARKETING MANAGER JOB DESCRIPTION
There will always be variations on what a digital marketing manager's main focus will be depending on the type and size of the organization. However, there are some general background requirements as well as a core set of hard and soft skills to look for in a digital marketing manager resume.
A digital marketing manager position will typically require extensive knowledge in primary digital marketing areas, including email marketing, SEO, social media and content marketing. Also needed: Experience in ad campaign creation and use of marketing tools like Google Ads, Google Analytics and HubSpot (to name just a few). The job also often requires the person to have a data-focused approach and strong analytical mindset. Understanding the web development process and the constraints of HTML, CSS and JavaScript are extremely beneficial skills as well.
Employers should look for candidates who understand how to optimize campaigns while collaborating closely with a range of stakeholders to streamline and enhance the marketing pipeline. Adaptability, creativity, the ability to balance competing priorities and top-notch communication skills are also essential for digital marketing managers. A keen interest in keeping up with the latest marketing trends is also key.
QUESTIONS TO ASK DURING THE DIGITAL MARKETING MANAGER JOB INTERVIEW
After you've identified what you need in a digital marketing manager, you'll need to equip yourself with the right interview questions to ask so you can identify the best candidate for the job. Here are five questions to consider when interviewing your next digital marketing manager candidate:
What is one emerging trend you're seeing right now that you'd be interested in applying to one of our digital campaigns?

What has been your most successful campaign to date? What do you attribute to its success?

What tools do you prefer to use when measuring campaign performance and success?

Give us an example of how you have successfully used social media and email marketing to launch a new campaign.

Have you ever done any A/B testing with experimental digital marketing techniques? If so, what were the results?
MAKING A COMPETITIVE DIGITAL MARKETING MANAGER SALARY OFFER
Many companies right now are dialed in on their digital marketing efforts and looking for candidates to help them excel. To ensure you remain competitive in a candidate-driven market you need to make sure you're offering a competitive salary with appealing benefits and perks, such as remote work flexibility. According to our 2022 Salary Guide, the digital marketing manager salary range is $95,000 to $140,000.
LET 24 SEVEN HELP YOU HIRE A DIGITAL MARKETING MANAGER!
Having trouble finding your ideal digital marketing manager candidate? 24 Seven recruiters understand the nuances of the digital marketing industry and can leverage their wide networks of skilled professionals to find the right people – and fast! Whether you need a digital marketing manager for a full-time, contract or freelance role, we are here to help!
​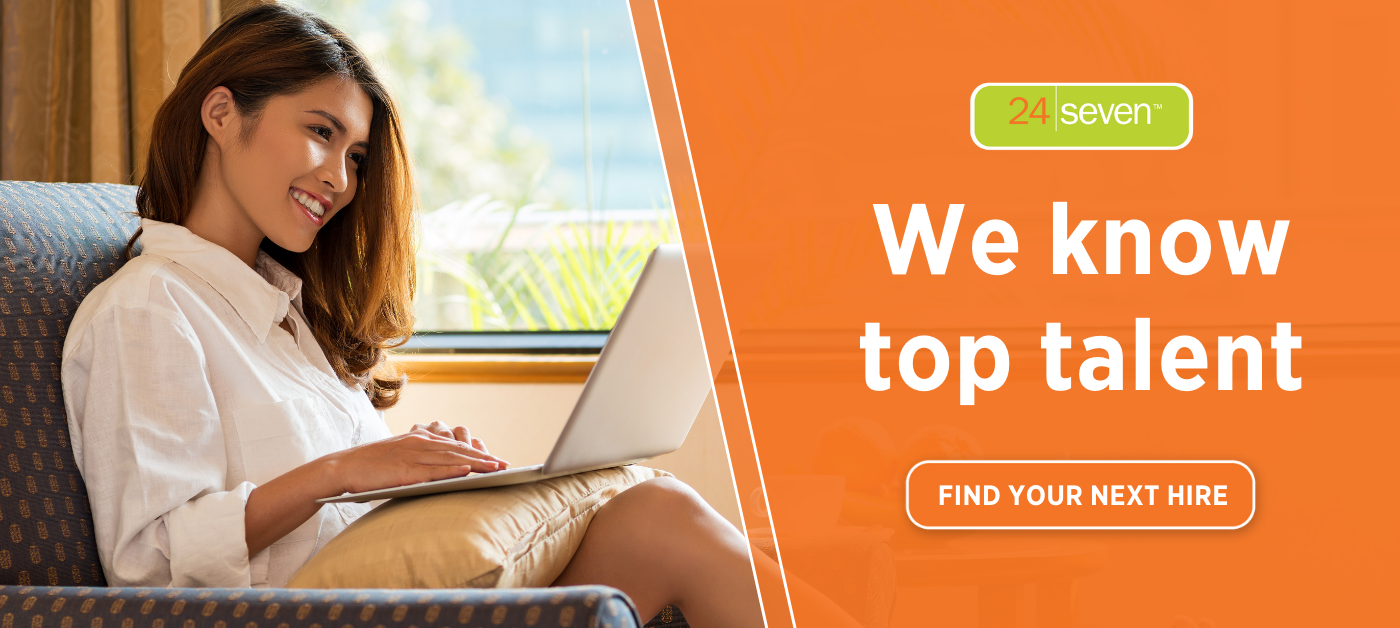 ​​