​Now more than ever, companies of all sizes and in all industries are counting on digital platforms to attract (and keep) the attention of their target audiences. But it can be difficult to stand out.
That's where an SEO manager comes in to help. Simply put, this person can help ensure that you're leading the pack in the organic search game, which remains one of the best ways to help increase your website traffic and boost conversions.
HOW TO WRITE AN SEO MANAGER JOB DESCRIPTION
When you start your search, make sure you have created an SEO manager job description that details all the hard and soft skills necessary for the position, as well as a brief synopsis of the day-to-day expectations.
Some examples of what you might include in terms of technical know-how are data analysis, advanced keyword research abilities, and in-depth knowledge of Google Analytics as well as common SEO optimization and analytics tools such as SEMrush, Screaming Frog, Ahrefs, Searchmetrics, and BrightEdge. If your company uses a specific tool or program, be sure to include whether prior experience is a "plus" or absolutely required.
Some soft skills that you might want to feature are elevated analytical abilities, effective communication, flexibility, creativity, and resourcefulness in keeping pace with the ever-evolving SEO landscape. A keen attention to detail and a solutions-focused, data-driven approach to strategy are also important skills for any SEO manager.
Once you've put together what you're looking for in terms of skills, give candidates an idea of what will be expected on a day-to-day basis. Providing this information upfront can help narrow the pool of candidates to those who are most equipped to step into the role. Some examples of daily expectations include developing and implementing SEO strategy and best practices, regular execution of channel-specific client deliverables, establishing key performance indicators, preparing and presenting performance reports, optimizing organic search initiatives, and conducting regular technical checks to identify SEO issues and propose the most viable solutions.
Looking for an SEO Manager?
QUESTIONS TO ASK DURING THE JOB INTERVIEW
While a strong candidate resume that checks most or all of the requirement boxes might be the first thing to grab your attention, real-time communication is key to really get to know the person. The job interview is also your opportunity to work through common scenarios with your potential SEO manager to find out how they think.
When preparing to conduct job interviews, put together a list of questions to ask each candidate to better understand their approach to growing your website's organic traffic.
These questions could be specific to your company's needs or broader in scope. Some examples might include:
What SEO tools do you feel provide the most useful insights?

How will you measure your success as an SEO manager at our organization?

What are the components of a well-optimized page?

What are the most important things to look for when conducting an SEO audit?

How do you stay current on the latest search engine algorithm updates?
OFFER A COMPETITIVE SALARY AND BENEFITS PACKAGE
Given today's focus on organic search traffic, SEO managers are in high demand. So, when you find the right person for your role, don't delay. Give yourself an edge by swiftly offering a competitive compensation package that includes desirable perks and benefits. According to 24 Seven's 2022 Salary Guide, based on national industry averages and internal compensation data, the salary range for an SEO manager is $85,000-$160,000.
24 SEVEN CAN HELP!
In today's candidate-driven market, it's important to do all you can to identify and win over top talent, including highly skilled SEO managers. 24 Seven can help support you in your search. Our recruiters are experts in the marketing, creative, and technology space and understand the complexities of finding an SEO manager that is the right fit for your team. Whether you need a full-time or freelance SEO manager or SEO specialist, we are here to help!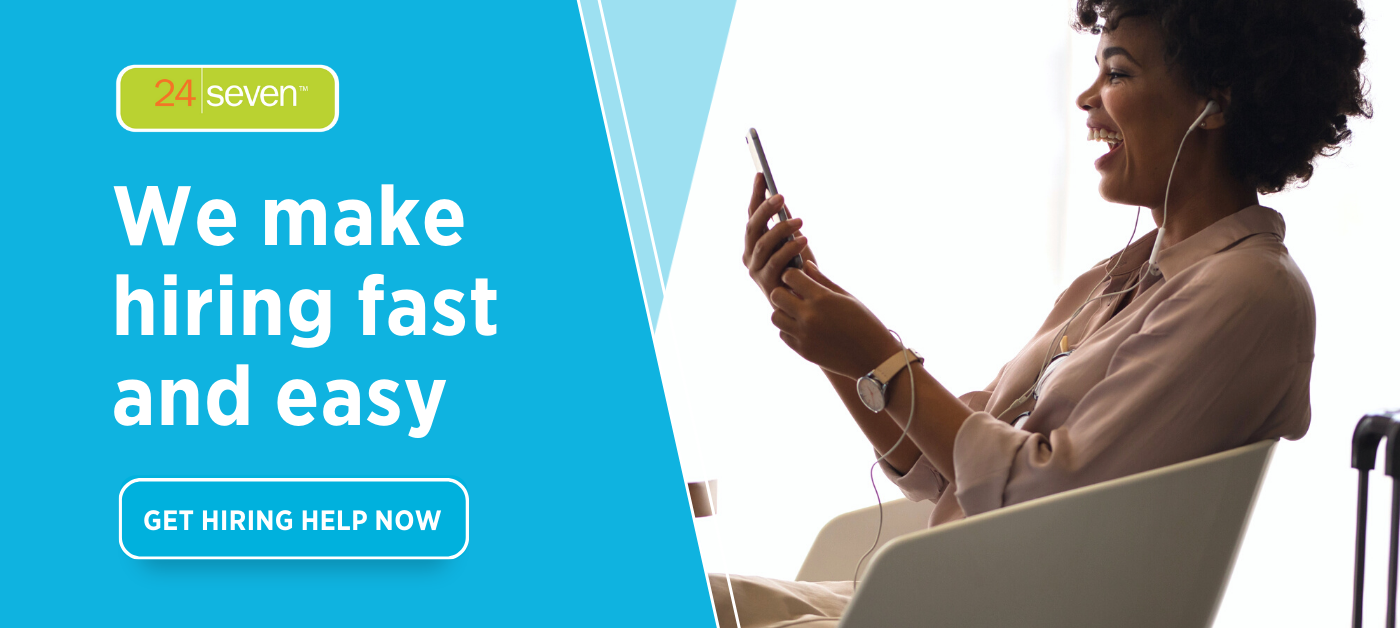 ​