Creative directors are in demand in all types of industries from advertising and marketing to fashion and beauty. Their skills and expertise are needed within both agencies and in-house creative departments.
So, what is a creative director? Creative directors create the vision and strategy for key projects and campaigns. They typically develop and oversee initiatives at the formative stages and then work with a creative team to turn that vision into reality.
Looking for a job in the creative field?
If you have a passion for driving projects from concept to completion and feel ready to step into this leadership role, here are tips on how to become a creative director.
WHAT DOES A CREATIVE DIRECTOR DO?
Creative directors create, plan and then lead high-level projects from start to finish, overseeing the look, tone, and feel of copy and design. You'll find creative directors presenting to clients and company stakeholders, guiding team brainstorming sessions, developing early project concepts, and providing insightful feedback. They ensure the creative process and final results match a company's brand and overall objectives.
While smaller organizations may require creative directors to be more hands-on in getting the work done, the role of a creative director typically centers on providing a creative vision and managing a team.
WHAT SKILLS AND ABILITIES DO CREATIVE DIRECTORS NEED
While coming up with innovative ideas is certainly a core part of becoming a creative director, just as important is the ability to lead and inspire. Here are just some of the skills successful creative directors should possess:
A strong understanding of design, copy, and digital best practices

Expertise in brand development and multichannel marketing concepts

Elevated time and budget management skills

Ability to energize and lead a multidisciplinary creative team

Top-notch communication skills

Persuasiveness

Resourcefulness

A solid understanding of tools related to design, illustration, photography, and copywriting

An innovative mindset
WHAT DO HIRING MANAGERS LOOK FOR
Beyond the skills, abilities, and traits mentioned above, hiring managers look for several years of previous relevant experience. A creative director is not an entry-level role so you should have experience in the creative field whether it be as a graphic designer, creative producer, assistant creative director, or another junior-level creative role. It's beneficial to have some management experience as well. If you haven't supervised a full team, consider highlighting any successful team projects you have led or any other leadership experience you might have in your resume or cover letter.
Hiring managers will also want to see a creative portfolio that highlights your talents and past work. You should think of this portfolio as a primary marketing tool that shows how you think and communicates what you're capable of. In addition to displaying visuals, consider adding brief and compelling captions to your portfolio pieces, including the main objective and any positive outcomes that provide meaningful context. Doing so will highlight that you are metrics-minded and that you focus on ROI as well as creative output.
HOW 24 SEVEN CAN HELP
If you're ready to take the next step in your creative career and pursue a leadership role as a creative director, consider working with the specialized recruiters at 24 Seven. Our team works with some of the top brands in the creative, marketing, digital, fashion, beauty, and retail industries. We can help you identify full-time or freelance creative director opportunities that match your skills and interests.
Browse our open roles and contact a recruiter today.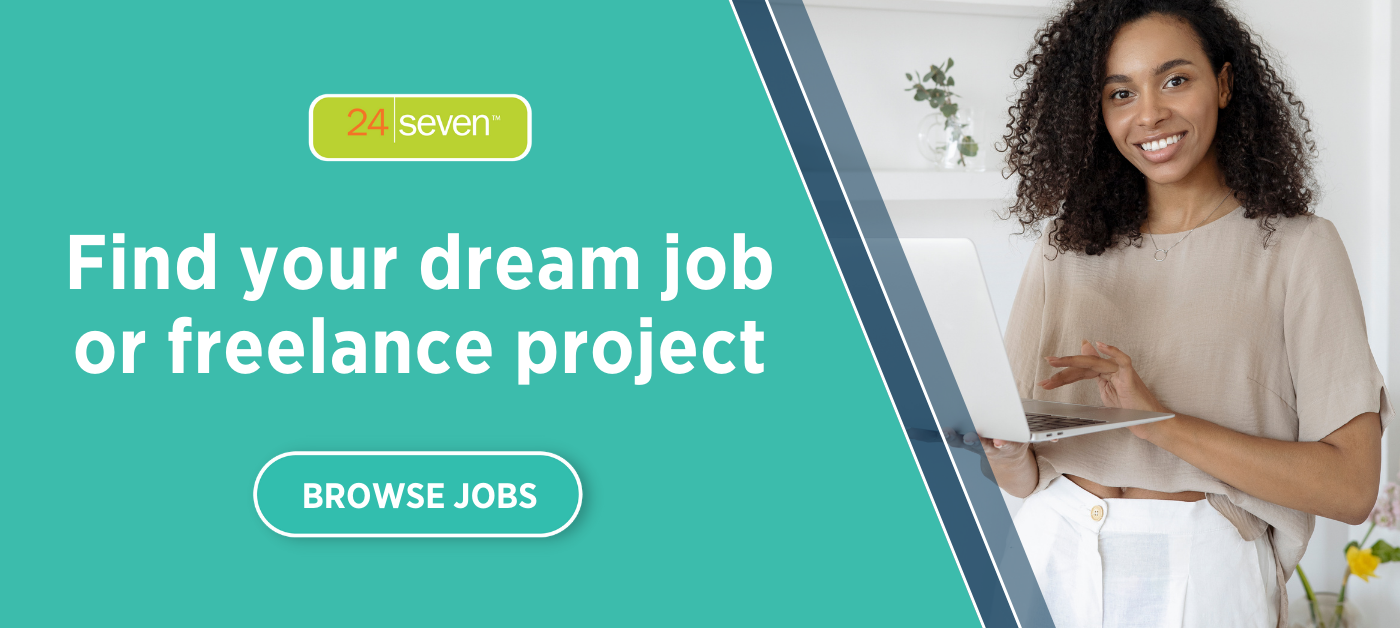 ​