​In today's rapidly evolving and competitive business world – a top-notch marketing strategy is more important than ever in attracting new customers, retaining existing ones, building awareness around your brand, and staying ahead of your competitors. And having the right marketing professionals on your team – whether they be full-time, freelance, or a mix of both – is imperative to your success.
Between sourcing candidates, reviewing resumes and portfolios, and setting up interviews – hiring marketing talent can be a time-intensive and expensive process. But working with a team of specialized marketing recruiters at a dedicated marketing staffing agency like 24 Seven can be just what you need to streamline your hiring process.
Interested in working with a marketing staffing agency?
Following are just some of the benefits of working with marketing recruiters and marketing recruitment agencies:
REACH A LARGER TALENT POOL
By partnering with a marketing staffing agency, especially an industry leader like 24 Seven, you can drastically increase your access to top marketing talent. 24 Seven, for example, has access to a vast network of pre-vetted marketing professionals with a wealth of skills in various marketing specialties, from search engine optimization to brand development and project management.
The marketing recruiters at 24 Seven work closely with your organization to better understand your unique marketing needs and goals – and from there, can quickly find the level of expertise you need from our internal talent database.
SAVE VALUABLE TIME
Marketing recruitment agencies handle the time-consuming process of sourcing, screening, and setting up interviews between you and potential marketing candidates – giving you back time to your day to focus on your core business priorities and objectives.
Given their access to large pools of talent, marketing recruiters can provide you with a shortlist of candidates who meet your needs – and who are often available immediately.
Additionally, a marketing staffing agency like 24 Seven understands the nuances of the current marketplace and can advise you on how to remain competitive when hiring so you don't lose out on winning over top marketing talent.
ACCESS SPECIALIZED MARKETING EXPERTISE
The marketing recruiters at 24 Seven can connect you with a wide range of industry specialists. Whether your organization is looking for a copywriter who can craft compelling messaging, an email and social media marketer who can boost engagement, or a paid media specialist who can drive conversions, 24 Seven's recruiters can help you find candidates with the specific expertise needed.
BENEFIT FROM IMPROVED CANDIDATE EXPERIENCE
When you team up with a marketing staffing agency like 24 Seven, you have a partner helping with the hiring heavy lift from selecting candidates, setting up interviews, extending an offer, guiding you through negotiations, and even onboarding new employees. Our marketing recruiters are committed to finding you the marketing experts you need and ensuring that the candidate integration process is as seamless as possible.
WORK WITH THE EXPERT MARKETING RECRUITERS AT 24 SEVEN
Whether you need full-time, freelance, or temp-to-hire marketing talent, the experts at 24 Seven can help you build your marketing teams so that you can achieve your most critical organizational or departmental goals.
Our skilled marketing recruiters are ready to take the headache out of hiring for you. Contact us today, and let's work together to help you find the marketing staff you need.
Related post: How to Hire a Marketing Project Manager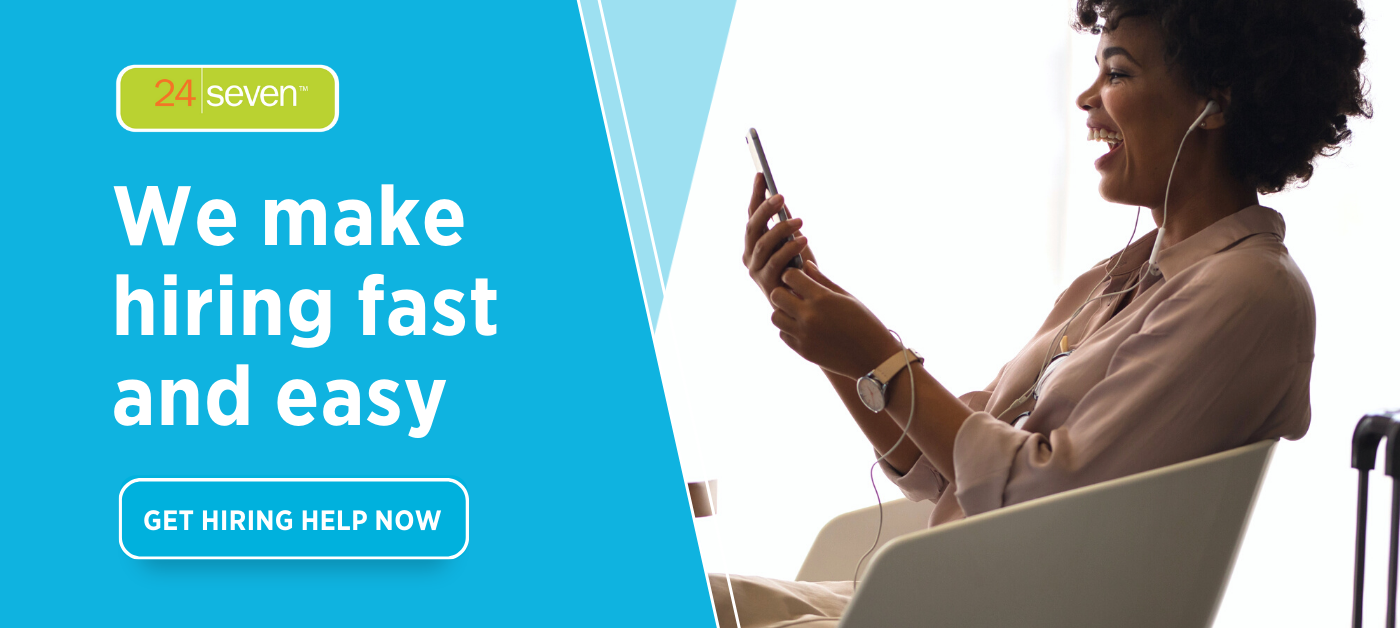 ​