In today's highly competitive business landscape, maintaining high employee morale should be top of mind for employers. A motivated and engaged workforce is not only happier but also tends to be significantly more productive and loyal.
Employee morale refers to the overall attitude, satisfaction, and motivation of a company's workforce. Enhancing employee morale is not just about fostering happiness, but also about ensuring that team members are deeply engaged in their work and aligned with the organization's objectives. Maintaining high morale is pivotal for both employee retention and the quality of the work being produced.
Following are strategies to help lift employee morale and how a specialized recruiting agency can step in to help fill the gaps in your marketing, creative, and tech teams when needed.
Looking to hire freelancers?
1. RECOGNITION AND APPRECIATION
Recognizing and valuing employees' contributions and accomplishments is a fundamental approach to elevating morale. Make a focused effort to recognize great work by employees, both formally and informally. Remember that informal recognition, such as public shout-outs in meetings and sincere and timely "thank you" messages, can go a long way. It's also important to encourage peer-to-peer recognition, as it fosters a culture of appreciation within your marketing or creative team. When acknowledging accomplishments, be specific in your praise, highlighting the actions or behaviors that deserve recognition. Additionally, when applicable, consider offering tangible rewards such as bonuses, gift cards, or other perks for exceptional performance.
2. EFFECTIVE COMMUNICATION
Effective communication is essential for keeping employees informed and engaged. Conduct regular team meetings to share company updates, progress, and future plans. Utilize multiple communication channels, including email, messaging apps, and all-team meetings, to cater to different communication preferences. Creating opportunities for employees to share feedback is also key, as it provides a space for concerns to be expressed, suggestions to be provided, and adjustments to be made without fear of repercussion. Ensure that leadership is approachable and accessible, making an effort to answer questions and address concerns promptly.
3. PROFESSIONAL ENGAGEMENT
Investing in the growth and development of your employees not only enhances their skills but also boosts morale. As a manager, start by creating personalized development plans for each employee based on their career goals and skills. Offer access to a variety of learning opportunities, including online courses, workshops, and industry conferences. Implement mentorship programs that pair experienced employees with those seeking growth opportunities. By providing a range of professional development opportunities, you're helping to promote career development and progression, which go hand-in-hand with employee longevity and engagement.
4. WORK-LIFE BALANCE
Promoting a healthy work-life balance is crucial for preventing burnout, particularly for marketers and creatives working in busy deadline-driven environments. Encourage employees to use their paid time off and vacation days, emphasizing the importance of taking breaks to relax and recharge their creative batteries. It's important to set realistic expectations for working hours and avoid contacting employees outside of these hours to respect employee boundaries and allow for time to unplug. If you find that your team is displaying signs of burnout, consider bringing in freelancers when necessary so your core team isn't stretched too thin.
5. WELLNESS AND HEALTH INITIATIVES
Employee well-being is a significant contributor to morale. Offer wellness programs that address both physical and mental health. This could include providing wellness benefits such as gym memberships, wellness challenges, or on-site fitness facilities. Ensure employees have access to mental health resources, including counseling services or Employee Assistance Programs (EAPs). A study showed that 89% of employees working for organizations with wellness programs are engaged and happy with their jobs. Putting an emphasis on employee health, both physical and mental, can highlight how you care for employees outside the nine-to-five.
6. TEAM BUILDING AND SOCIAL ACTIVITIES
Building strong team dynamics is vital. Plan regular team-building events, either virtual or in-person, that focus on promoting collaboration, problem-solving, and trust-building among team members. Celebrate achievements and milestones as a marketing and creative team with parties or special events to create a sense of unity and accomplishment. Consider creating cross-functional teams to tackle specific projects or challenges, encouraging employees to collaborate outside their usual roles and departments.
7. EMPOWERMENT AND AUTONOMY
Empowering employees by giving them autonomy and decision-making authority within their areas of expertise can significantly boost employee morale. Encourage employees to take ownership of projects and solutions, to foster a sense of responsibility and accountability. Create a culture where employees are encouraged to suggest and implement process enhancements, knowing their input is valued. Providing employees with a voice can be instrumental in their growth and can make them feel more rooted in the brand and its initiatives.
8. FAIR COMPENSATION AND BENEFITS
Fair compensation and a comprehensive benefits package are fundamental to employee satisfaction. Keep up to date on salary and benefit benchmarks through relevant industry updates and reports to ensure you're staying competitive in the market. It's also important to put an emphasis on non-traditional benefits and perks to differentiate yourself as an employer. Additionally, consider implementing performance-based bonuses to reward employees for their contributions. Remaining competitive in the compensation and benefits space is crucial, as you want your employees to feel that they are being adequately compensated for the work they're doing.
9. CREATE AN INCLUSIVE AND DIVERSE CULTURE
Inclusive and diverse work environments often foster higher levels of employee morale. When looking to make individuals feel more included in an organization, it is crucial to consider the baseline understanding of diversity, equity, and inclusion. Diversity, equity, and inclusion refers to an organizational framework that seeks to promote the fair treatment and full participation of all people, particularly groups who have been historically underrepresented. When employees see that their workplace values diversity and inclusion, they are more likely to feel a sense of belonging and motivation to be part of their team. According to a study by McKinsey & Company, employees who feel included within their organizations are about three times more likely than other peers to feel excited by and committed to organization missions, thus fostering a higher work engagement. This sense of belonging contributes to higher morale, as employees feel respected and appreciated for who they are, regardless of their background or identity.
10. LEADERSHIP AND ROLE MODELING
Leadership sets the tone for the entire organization. Lead by example by demonstrating a positive attitude and enthusiasm for the work you're doing and the goals in place for the entire team. As a leader, show empathy and understanding towards your employees' challenges, providing support and guidance when needed. Lead with integrity and transparency, admitting mistakes when necessary and taking responsibility for your actions. Furthermore, provide opportunities for leadership training and development for managers.
WORK WITH 24 SEVEN TO TAKE THE HEAVY LIFT OFF OF YOUR EMPLOYEES
Employee morale is the cornerstone of an organization's success. When employees are motivated, engaged, and satisfied, they are happier and also drive more business growth, innovation, and customer satisfaction. By implementing these strategies to boost employee morale, you'll create a workplace where employees feel empowered to do their best.
On the other hand, when employees are overworked and stretched too thin, morale can plummet. Burnout can lead to a negative environment, and eventually retention problems. In these situations, bringing in specialized marketing, creative, and tech freelance talent on an as-needed basis can be tremendously beneficial.
If you're curious about bringing aboard freelancers, consider working with the specialized recruiters at 24 Seven to help you find the marketing, creative, and tech talent you need – fast. Our team is tapped into a deep pool of highly skilled and pre-vetted talent in the creative, marketing, digital, fashion, beauty, and retail sectors.
Contact us today to learn more about our offerings!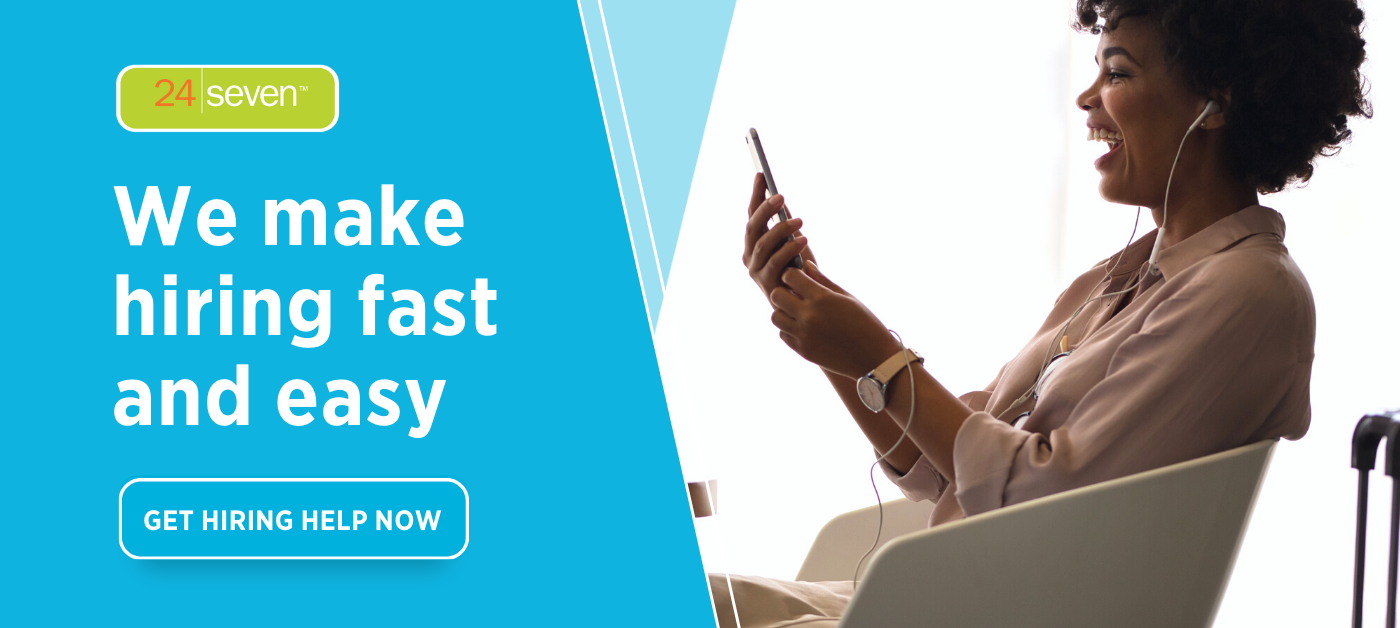 ​
​