As digital and technology trends have enabled us to share information across new platforms and in new ways, we are becoming an increasingly visual society. Today, it is extremely beneficial for creative and marketing professionals to not only tell employers about their most relevant skills when applying for a job, but to also show them. The bottom line: It pays to put in the effort to carefully craft a polished collection of work samples that effectively highlights your strengths and versatility.

Following are tips on what makes a good portfolio:
A GOOD PORTFOLIO SHOULD TELL A STORY
Just as you want both your resume and cover letter to flow in a way that entices the reviewer to continue reading, your portfolio should also tell a story. Prospective employers and potential clients want to see your thought process and the ideas behind your best designs. So, in addition to sharing images of final designs, a good portfolio will often also include sketches that help add clarity to the work. Creative directors and art directors typically want to see how you think through challenges and get a sense of your creative process. Showcasing some key elements that led to your final design for a few of your portfolio samples is a great way to market yourself as a creative candidate. Adding a succinct and compelling caption about each piece, including the primary goal and any positive impact it made also adds valuable context. Plus, it demonstrates that you are metrics-minded and that you focus on ROI.
KEEP YOUR PORTFOLIO CURRENT
Updating a digital portfolio can sometimes feel like a daunting task. To avoid getting overwhelmed, refresh it regularly, ideally once every few months (or at least after you've finished a large new project). If you get into the habit of updating your portfolio as you work with different clients or on new initiatives, you won't find yourself scrambling to dig up work when an exciting new career opportunity arises. This way, if a job opening or new freelance assignment suddenly piques your interest, your portfolio will be ready to go.​
MAKE IT EASY TO NAVIGATE
It's not just about what you show, but how you display it. Be sure that your digital portfolio is accessible and intuitive. Optimize the page-load time of your content and set up a clear hierarchy and organizational system. And make sure it looks good on desktop and mobile devices. Hiring managers are often looking at your portfolio quickly, which means that it's essential to make it easy for them to navigate so they can see all your best work. And naturally, if your portfolio is password protected, share that information as part of your application for any job. Also, be sure your contact information is easy to locate.
DON'T BE AFRAID TO INCLUDE PERSONAL WORK IN YOUR DIGITAL PORTFOLIO
As you are putting together a varied selection of your best professional work, consider including a personal project or two to show your own style and aesthetic. Trends are constantly changing, so this approach allows you to add a personal touch while also showing how you are staying relevant in your free time.
Need help getting your creative portfolio in front of prospective employers or freelance clients? We make finding your next job or freelance assignment easy!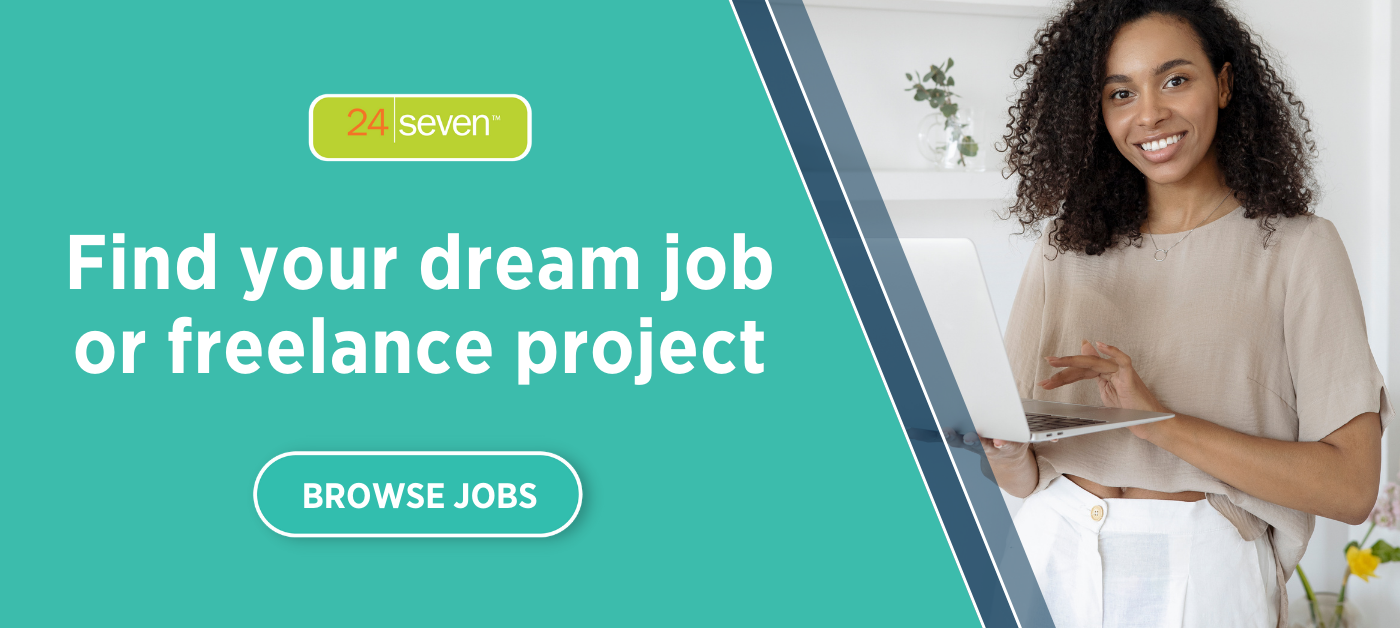 This post was updated on May 12, 2022.