Do you have a passion for all things beauty and skills in marketing? A career in the beauty industry might be the perfect way for you to turn your passion into your profession.
From merchandising skincare and cosmetics to developing a brand strategy for hair styling tools, there are plenty of options in the beauty industry for marketers in all stages of their careers.
Following are some of today's top beauty marketing jobs and how the specialized recruiters at 24 Seven can help you land one.
Looking for beauty marketing jobs?
DIGITAL MARKETING MANAGER
The role of digital marketing manager is one of the hottest marketing jobs in any industry today and beauty is no different. Digital marketers in the beauty field work to elevate a brand's digital presence and drive demand through an array of digital campaigns.
The responsibilities of a digital marketing manager will vary depending on the size of the beauty organization but typically someone in this role will develop, test, and execute digital marketing campaigns across multiple channels, including the company's website, email, and social media.
Digital marketing managers should have a strong grasp of search engine optimization, content marketing, email marketing, and social media. They should also have experience in ad campaign creation and marketing and analytics tools such as Google Ads, Google Analytics, and HubSpot.
Larger companies might hire digital marketing managers to oversee a bigger digital marketing department that includes email marketers, social media managers, digital designers, and content marketers. Smaller organizations might rely on their digital marketing managers to handle these various responsibilities on their own.
E-COMMERCE MANAGER
While a digital marketer's goal is to reach a targeted audience via the internet, an e-commerce manager is responsible for the entire customer journey once someone has landed on the company's website. This involves overseeing the look, feel, and design of a website as well as making sure it is secure and easy to navigate.
E-commerce managers in beauty work closely with quality assurance and marketing teams to develop and implement a strategic e-commerce marketing plan. E-commerce managers typically focus tightly on the customer's overall website experience, including navigation, content, product catalog uploads and edits, checkout funnel, promotional campaigns, and reviewing sales information and site metrics to identify new opportunities to boost business.
The person in this role should have ample experience driving and implementing business-to-consumer (B2C) e-commerce and digital marketing initiatives. They will also be expected to have a strong grasp of SEO/SEM, Google Analytics, and CRM software.
CRM MANAGERS
CRM managers have their hands in developing various systems that strengthen the relationship between a beauty company and its customers. The person in this role is in charge of developing and implementing strategies with the goal of retaining existing customers and building upon that loyalty.
Beauty insider programs and VIP perks are great examples of the kind of engagement programs CRM managers develop. Think of a time when you received a text message or email from your favorite beauty brand with a promotional 20% off code – this is another example of a CRM-led campaign.
CRM managers work closely with marketing, analytics, and technology teams to identify and understand key audience segments, map and optimize the customer journey, and delight and reward their customer base.
Depending on the seniority level of the specific job, most CRM managers are expected to have experience in engagement marketing across platforms, including email, loyalty/rewards, SMS, push alerts and app notifications, direct mail, fan segmentation, social media marketing, and promotions in a B2C or direct-to-consumer setting.
MERCHANDISER
Beauty merchandisers introduce a company's brand to customers in the best way possible by keeping products and displays visually appealing and relevant to customers' interests.
Beauty merchandisers can work in e-commerce, brick-and-mortar, or a combination of both. But in either case, they are in charge of making sure customers can find the products they're looking for easily and be enticed by others they encounter along the way.
They work closely with vendors and retailers to monitor inventory and make sure the products stocked align with what is on trend and seasonal. For example, a merchandiser working in skincare would probably want to make sure sunscreen had a feature display, either online or in person, during the summer months and switch that up to feature moisturizing facial creams during the dry colder months.
Beauty merchandisers are usually expected to have retail experience, specifically in the beauty industry. Prior e-commerce experience and knowledge of visual merchandising and store design are helpful.
PAID MEDIA SPECIALIST
Paid media specialists oversee setting up, optimizing, and reporting on advertising campaigns. This could include digital, on-air, and print advertising.
This person focuses on finding new ways to connect beauty products to a target audience by appealing to those consumers' interests and values by using market research and trend analysis to develop ideas for promotional campaigns. This job is part strategy, budget allocation, negotiation, and client communication, and part research, implementation, optimization, and reporting.
A paid media specialist should have a strong understanding of paid media channels, data-driven decision-making, A/B testing, and an interest in beauty trends.
BRAND MANAGER
Brand managers working in beauty are in charge of creating a compelling brand image that captures a target audience's attention. There are various seniority levels of this position, but the focus of any beauty brand manager is to oversee various functions within an organization aimed at building brand awareness and protecting the brand's reputation. Brand managers will conduct regular brand health audits to track brand recognition, usage, positioning, and delivery.
A beauty brand manager is typically expected to have experience in and a passion for the beauty industry as well as previous brand and/or digital marketing experience.
HOW 24 SEVEN CAN HELP YOU FIND BEAUTY MARKETING JOBS
24 Seven is a leader in the beauty marketing staffing space and has more than 20 years of experience connecting candidates with beauty marketing jobs. We work with an array of beauty brands from the big and trendy household names to smaller beauty companies making waves in the industry. When you work with the recruiters at 24 Seven, we do the job search heavy lifting at no cost to you.
Browse our open jobs in the beauty industry and contact a recruiter today about full-time or freelance opportunities!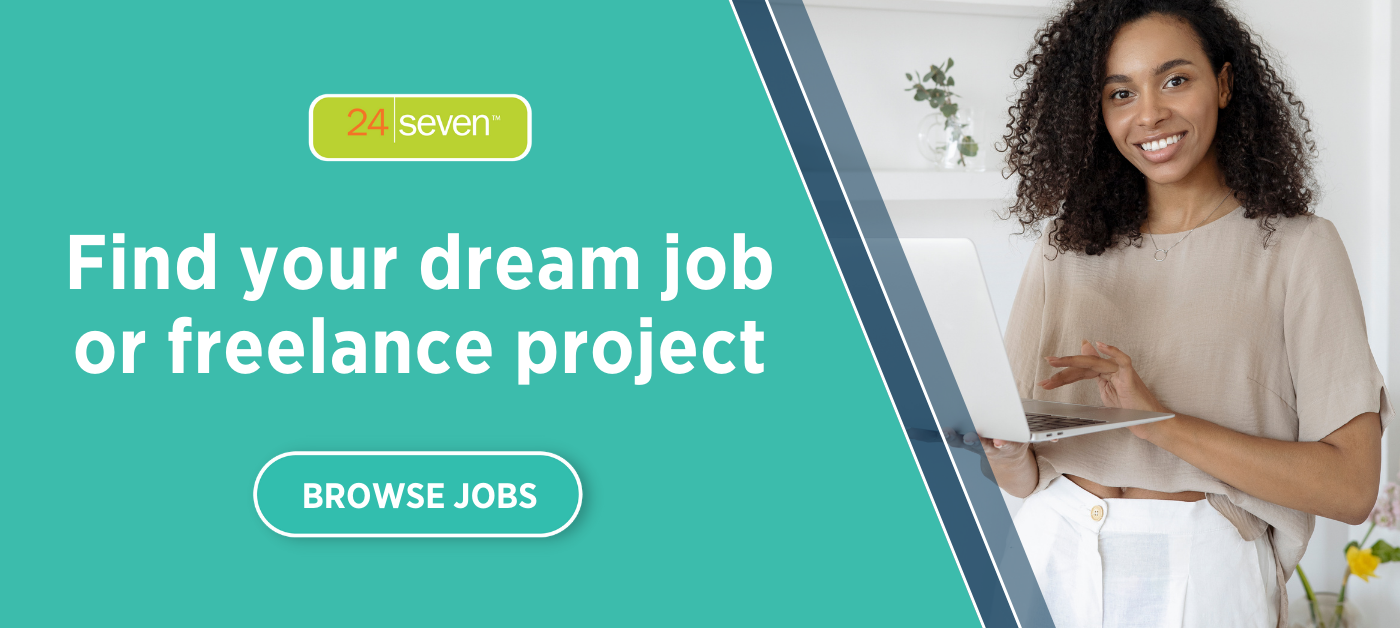 ​