Words are powerful. Words can evoke emotion, draw connections, persuade, and inspire. As such, the words you choose to tell your brand's story and engage with your target audience can be a key differentiator in helping you stand out amongst the competition and grow your business.
Having a highly skilled copywriter on your team who understands the power of words and how to use them might be exactly what you need to take your organization's marketing efforts to the next level.
Looking to hire a copywriter?
WHY HIRE A COPYWRITER?
While some businesses may choose to hand off copywriting tasks to members of their existing team, there are many benefits to hiring a designated full-time or freelance copywriter, including:
Enhanced messaging: Copywriters excel at crafting persuasive and compelling messages, which enables them to effectively communicate to your target audience what makes your brand unique and why they should do business with your organization over your competitors.
Brand consistency: Copywriters ensure that the copy and messaging across all platforms and channels remain consistent and align with your brand's voice and values.
Professional polish: Copywriters are writing experts. They excel at creating high-quality content that both informs and persuades. Many copywriters today also understand how to use SEO to help your company improve its search engine rankings.
Increased engagement: An effective copywriter creates content that drives readers to action across all touchpoints, whether that be encouraging customers to make a purchase, sign up for a newsletter, or engage with your brand in other meaningful ways.
HOW TO WRITE A COPYWRITER JOB DESCRIPTION
When crafting your copywriter job description, it's beneficial to start off with a short summary that provides a broad outline of the primary responsibilities associated with the role. An example might look something like this:
"As a copywriter, you will be responsible for crafting compelling and persuasive content for various marketing channels to engage our target audience and drive brand awareness."
From there, include a more detailed breakdown of the daily tasks associated with this position. While the specific duties may vary based on your organization's unique needs, here are several key responsibilities to consider incorporating into your copywriter job description:
Write clear, concise, and compelling copy for various marketing materials

Collaborate with the broader marketing team to develop and execute creative concepts for new campaigns and initiatives

Conduct thorough research on industry trends, target audience, and competitors to inform content strategy and ensure messaging effectiveness

Edit and proofread all written content to ensure accuracy, grammar, and adherence to brand guidelines

Stay up to date with the latest industry trends and best practices in copywriting and content marketing

Collaborate with cross-functional teams to ensure consistency in messaging across all touchpoints
Next, detail the specific skills and experience needed. This should encompass a blend of technical expertise and soft skills, with the level of experience varying depending on the seniority of the position. However, most copywriters should demonstrate proficiency in the following areas:
Proven experience as a copywriter or in a similar role, preferably in a marketing agency, advertising firm, or in-house creative department

Excellent written and verbal communication skills with a keen eye for detail

Proficient in using content management systems and project management tools

Strong understanding of branding principles and ability to align copy with brand guidelines

Ability to multitask, prioritize projects, and meet deadlines in a fast-paced environment

Creative mindset with the ability to think outside the box and develop unique ideas
INTERVIEW QUESTIONS TO ASK A COPYWRITER
Once you have found potential copywriter candidates to interview, create a list of questions to help you get to know each candidate beyond their resume. The questions you ask should help you better understand their specific copywriting experience and working style.
Below are some examples of potential interview questions:
Can you describe your copywriting process from the research stage to the publishing stage?

What types of copy do you have the most experience writing (e.g., website copy, ads, white papers, social media posts)?

Describe what steps you take to learn about a target audience so you can tailor your copy to resonate with them?

How do you stay current on trends and best practices in copywriting? For example, how has AI impacted the way in which you work?

How do you ensure your copy is engaging and persuasive?

Talk about a challenging copywriting project you worked on and how you overcame the obstacles.

Are there any specific industries you have experience writing for?

How do you handle feedback on your work?

Can you give an example of a successful copywriting campaign you were a part of and explain why it was successful?

How do you balance creativity with meeting the objectives and guidelines provided by clients or stakeholders?
HOW 24 SEVEN CAN HELP YOU HIRE A COPYWRITER
If you're ready to hire a copywriter who can leverage the power of words to help take your company to new heights, work with the specialized recruiters at 24 Seven.
We specialize in finding clients top talent in the marketing, creative, fashion, beauty, and retail sectors. We have access to a vast network of highly skilled full-time and freelance copywriters who are ready to help your business create the content you need to captivate and delight your target audience.
Contact our team today and let us take over the heavy lifting of the hiring process.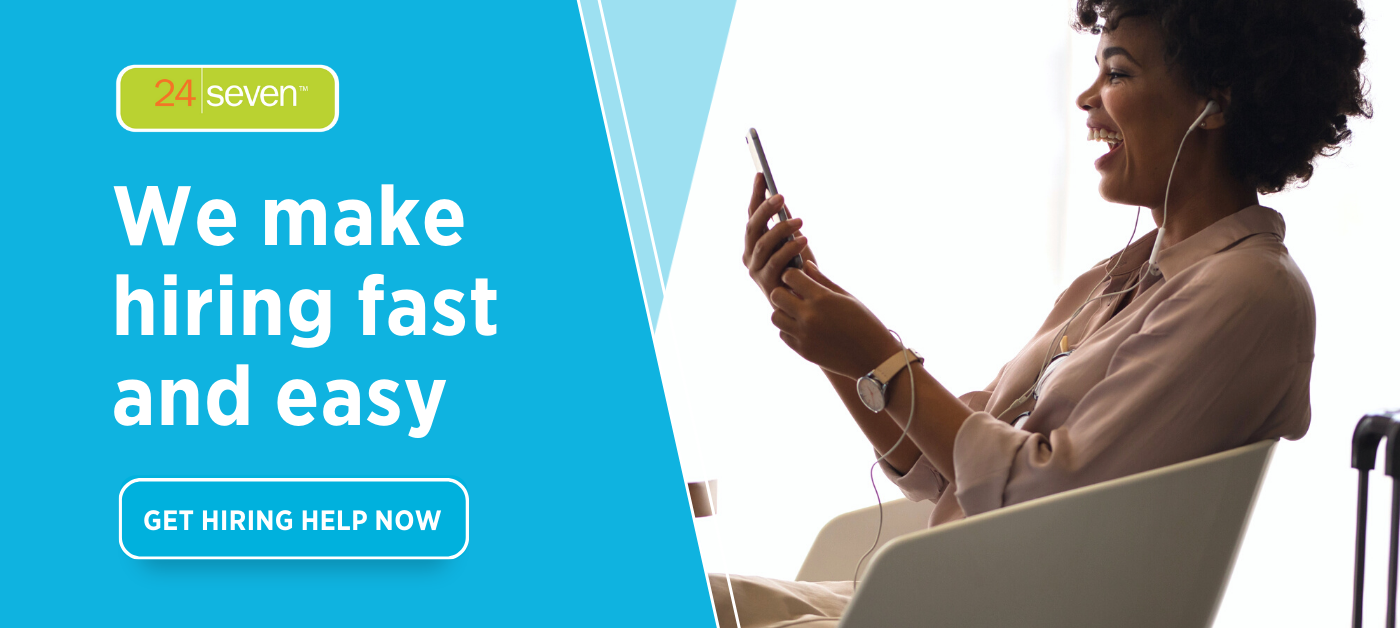 ​