Ready to jump into freelance work where you'll have no shortage of options? Digital marketing freelancing may be the path for you.
Digital marketers do everything from content creation and search engine optimization to social media management and advertising to full-on strategy development across platforms.
Given our ever-increasing digital world, digital marketers remain in strong demand.
So, launching your freelance career in this field can lead to an array of possibilities.
WHAT DOES A FREELANCE DIGITAL MARKETER DO?
Digital marketing is always evolving but the essence of what a digital marketer does is use a variety of channels to generate leads and build brand awareness. This can be accomplished by way of relevant content curation – such as blogs, social media campaigns and video production – as well as lead strategy development and management of sales and marketing funnels.
Simply put, digital marketing can be a lot of things depending on the company and its needs.
The only difference with digital freelance marketing is that you get to work for yourself. You can choose which projects you decide to take on based on how the client's needs align with your own. And while the companies you freelance for will have asks that you will need to cater to, you are ultimately still your own boss.
Looking for freelance work?
GETTING STARTED AS A DIGITAL MARKETING FREELANCER
First things first: Do you have experience in digital marketing? If not, many local community colleges and universities have continuing education programs where you can search for digital marketing courses. There are also many online training and certification programs that you might find beneficial. Examples include Grow with Google, HubSpot Academy, LinkedIn Learning, and Udemy.
And if you do have experience, you might still find that taking additional trainings will help you expand your offerings. For instance, maybe your work up until now has primarily focused on social media content curation but you don't have as much experience with search engine optimization or paid search campaigns – learning these skills can help bolster your resume while opening up additional options as you look for digital marketing freelancing opportunities.
Next, you'll want to create (or polish) your digital portfolio, compiling the work you're most proud of. If you're new to digital marketing freelancing, consider adding projects from coursework or pro-bono assignments you've taken on. If you've been in the digital marketing freelancing game for a while, regularly review your portfolio and update it to include newer pieces that speak to your most relevant and in-demand capabilities.
On your portfolio site, be sure to also include your resume, a brief bio and your contact information. There are many free or low-cost online portfolio tools available. No matter what platform you choose, building out a site is a great way to show how you can digitally market yourself!
SETTING UP YOUR DIGITAL MARKETING FREELANCE BUSINESS
Once you have the experience and tools you need to market yourself, you'll want to develop a business plan.
Some early things to consider are whether there are any specialties you'd like to offer? Perhaps you want to focus on B2B marketing copywriting or social media video production. Or are there specific industries you really want to focus on – for example beauty and retail or maybe tech? You might also want to consider your own personal brand. Do you have a logo, typeface, or color scheme you want to use? All this information should be included in your website.
You'll also want to think through personal priorities and boundaries to help you avoid burnout now that you are your own boss. When getting your start, you might be tempted to take on all the projects and work you're offered, but try to focus on quality over quantity. Word-of-mouth recommendations are critical, so you want to make sure that you're giving each client your best work each and every time.
HOW 24 SEVEN CAN HELP
When you're ready to start looking for digital marketing freelancing opportunities you could browse freelance job boards or network on LinkedIn. But you can also connect with a specialized freelance recruiter to help you hit the ground running at no cost to you.
The recruiters at 24 Seven specialize in placing freelancers across creative, marketing, and digital industries. Our team has a vast network of clients looking for freelancers on a short- and long-term basis and often have information about opportunities coming up before they're even posted. When you enlist the help of one of our recruiters, you'll have a free resource in your corner that understands the nuances of the job market. Our recruiters will help market your skills which means you're essentially doubling your chances of reaching new clients. And once we've successfully placed you on one project, we can start looking for your next job, helping you maintain a steady stream of work and income.
Take a look at our current digital marketing freelance job openings and contact one of our recruiters today.
This post was updated on August 16, 2022.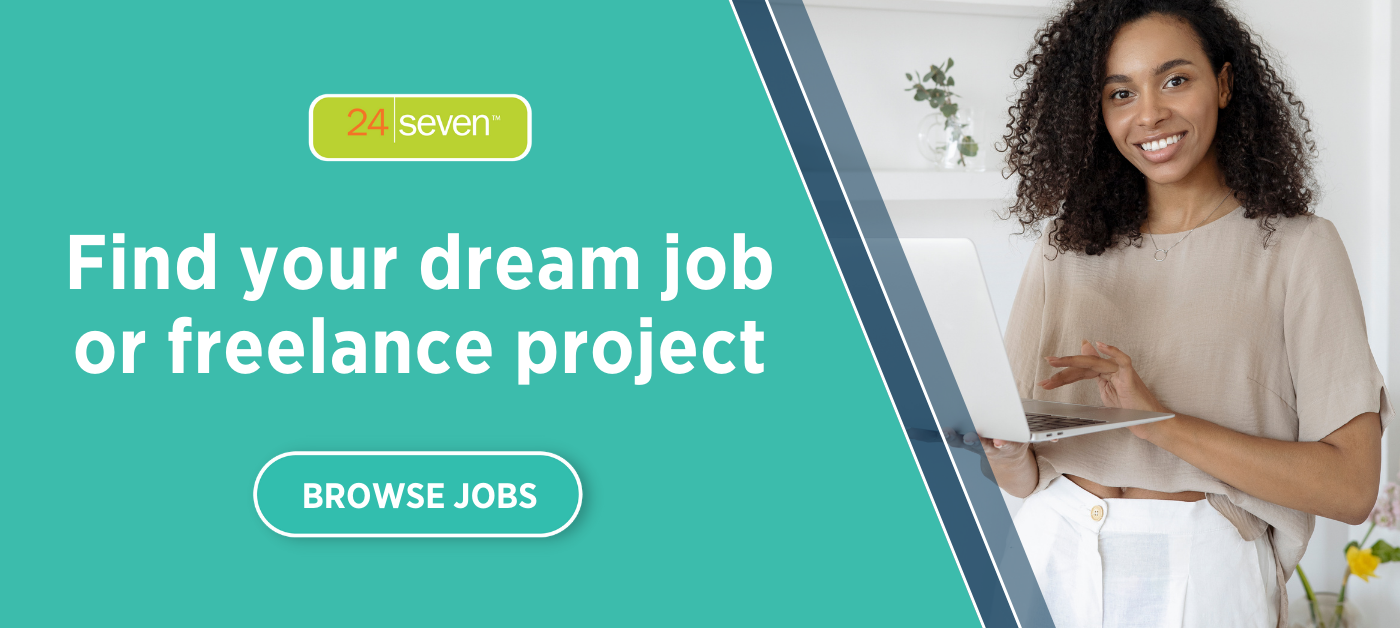 ​